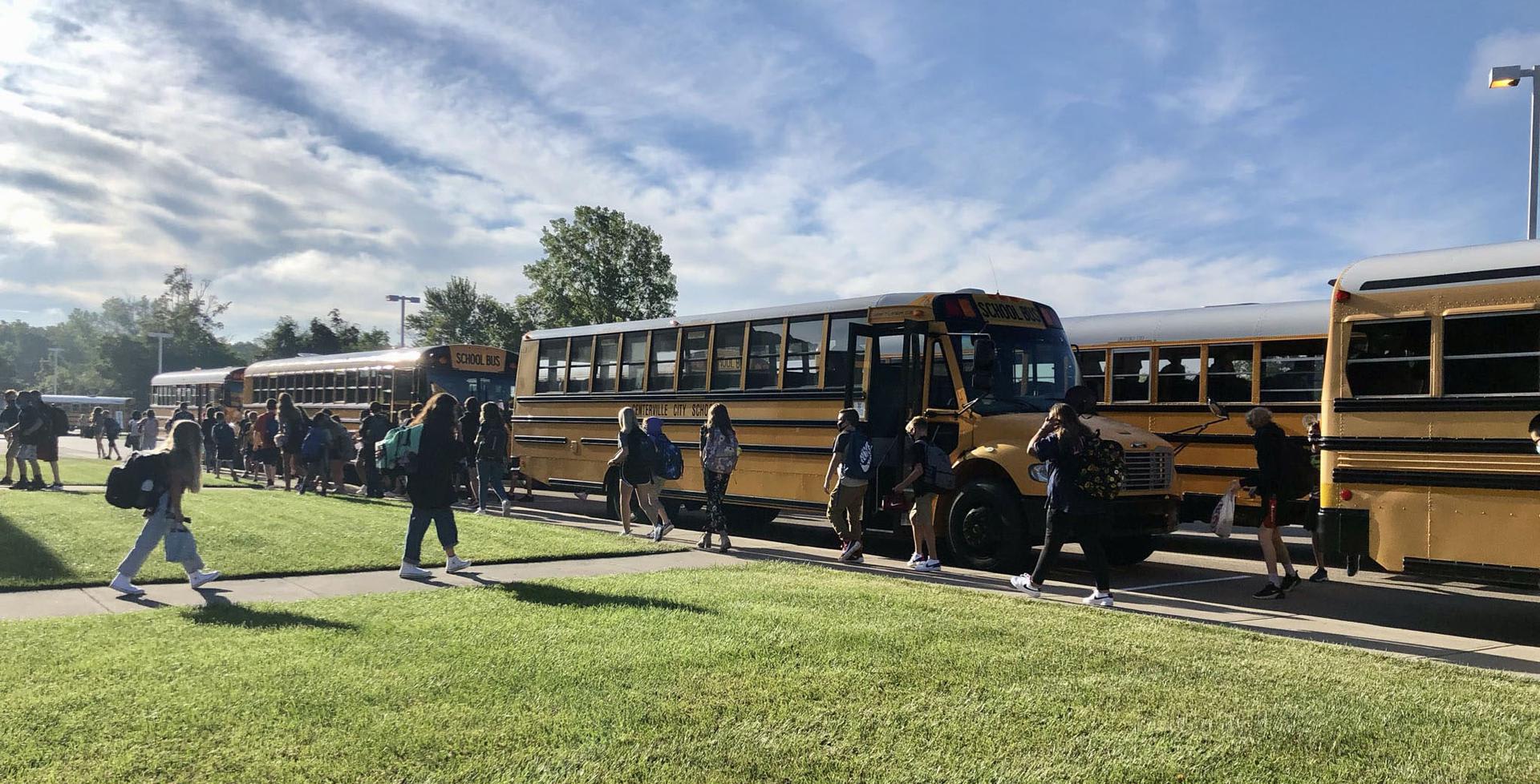 We are thrilled to welcome about 8,200 students back to school this week, and we hope everyone has a great start to the school year!
As you may have experienced, we had several transportation delays to work through this morning. It usually takes a few days to get used to traffic flow and establish routines, and we appreciate your patience as we start the new school year!
Reminder about mask requirements
Our goal is to keep students in school in-person so we can keep learning moving forward. Please remember that masks are required for all students and staff inside our K-5 school buildings. Due to the high virus transmission in our area, we strongly recommend that students and staff in our 6-12 buildings wear masks indoors as well. Students of all ages and all staff members are required to wear masks on school transportation. Thank you for helping us keep our schools and community safe!
Reporting positive COVID-19 cases, quarantines
As we start the new school year, please remember to report any positive COVID-19 cases or close contacts to the school district. Click here to access our online reporting form. COVID-19 data will continue to be updated on the district website each Friday.
What happens if a Chromebook is not working properly? This article explains the district's process for keeping devices in working condition as well as potential fees for Chromebook damage.
Three of Centerville's Destination Imagination teams placed within the Top 10 during the 2021 Global Finals.
Following their scrimmage on Aug. 13, the Centerville and Trotwood-Madison football teams enjoyed dinner together, as well as a guest speaker about character education.
Destination Imagination will hold an informational meeting for parents at 7 p.m. on Wednesday, Aug. 25 in the Cline Elementary Auditorium.
This article includes details to help parents/guardians as they update Returning Student Registration Forms and prepare to pay student fees.
This video with Olivia Stone, the district's Student Nutrition Services supervisor, shares more information about school breakfast and lunch.
Wednesday August 18
First Day of School for K-12 Students
Monday August 23
Board of Education Work Session - CHANGED: This meeting was rescheduled from Aug. 16.
6:30 PM
CHS South Unit Commons
Wednesday August 25
First Day of Preschool (AM/PM)
Monday August 30
Board of Education Meeting - CHANGED: This meeting was rescheduled from Aug. 23.
7:00 PM
CHS South Unit Commons
Monday September 6
No School - Labor Day
Friday September 17
No School - Professional In-service Day
Monday September 20
Board of Education Work Session
6:30 PM
CHS South Unit Commons
Monday September 27
Board of Education Meeting
7:00 PM
CHS South Unit Commons
Monday October 11
No School - Columbus Day
Friday October 15
End of 1st Quarter
Centerville Safe Panda Express Fundraiser - Aug. 24
Consider having lunch or dinner at Panda Express on Aug. 24 from 10:30 a.m.-9 p.m. Centerville Safe will receive 20% of your purchase. As a 501(c)(3), Centerville Safe can do direct fundraising to help Centerville City Schools reach their safety and security goals more quickly.
Eat at Chipotle & Earn Money for Watts PTO! - Aug. 31
Get dinner at Chipotle on Aug. 31 from 5-9 p.m. and the Watts Middle School PTO will receive 33% back! You can order online or in-person. It can be dine-in or to-go. Just show the flyer to the cashier (or enter the online code: 2T67KK2) and enjoy your meal!
Centerville City Schools offers these links as a service to the community and is not responsible for the content of these organizations' websites, flyers or classes.
If you are interested in sharing your community event, please complete the Request for Distribution of Materials Form.