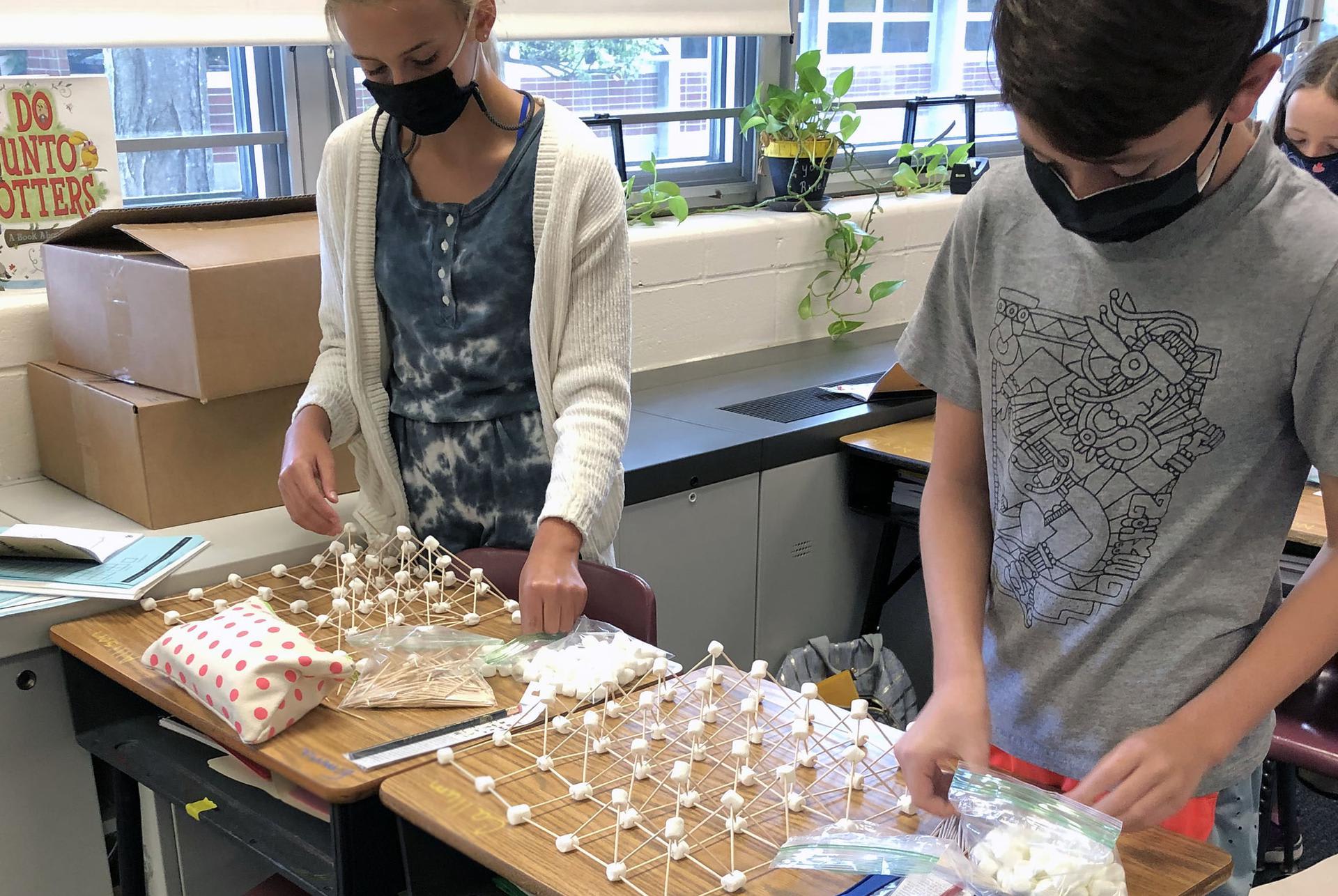 HANDS-ON LEARNING AT JOHN HOLE
Fifth graders at John Hole Elementary have an opportunity for more hands-on learning experiences this fall, thanks to a partnership with Boonshoft Museum and grant funding from the COVID-19 Response Fund for Greater Dayton. Students have been exploring geometry, physics, ancient cultures, timelines, resources, balance of ecosystems and more.
Reminder about COVID-19 health and safety protocols
Our goal is to keep students in school in-person so we can keep learning moving forward. Recent changes to our mask requirements help us minimize the impact of quarantines by keeping as many students coming to school as possible. If a child is exposed to the virus in school, quarantine is not required if that child has been fully vaccinated or was wearing a mask during the exposure.
Please keep your child home if they have any COVID-19 symptoms or symptoms of any other illness, including congestion or runny nose, sore throat, headache, cough, fever or chills, shortness of breath/difficulty breathing, fatigue, muscle or body aches, loss of taste or smell, nausea or vomiting, and/or diarrhea.
If your child tests positive for COVID-19 or is a close contact outside of school, please remember to complete our online reporting form. COVID-19 data will continue to be updated on the district website each Friday. More information about health and safety protocols is available on our Back to School Basics page.
Seventh grade art classes at Watts Middle School made glass pendants, thanks to grant funding from the Centerville Education Foundation and the Ohio Art Education Foundation.
Destination Imagination will be holding student/team placement workshops and information sessions at several schools over the next two weeks.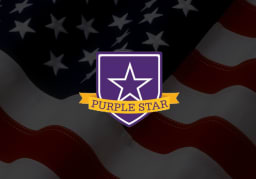 Driscoll and Weller elementary schools join seven other Centerville schools in being recognized for their commitment to students and families connected to our nation's military.
VIDEO: Watch full Aug. 30 board meeting or read highlights
Centerville High School students are invited to learn more about Science Olympiad during informational meetings in September.
More than 130 children celebrated the end of summer during a Back to School Bash earlier this month.
Monday September 6
No School - Labor Day
Friday September 17
No School - Professional In-service Day
Monday September 20
Board of Education Work Session
6:30 PM
CHS South Unit Commons
Monday September 27
Board of Education Meeting
7:00 PM
CHS South Unit Commons
Monday October 11
No School - Columbus Day
Friday October 15
End of 1st Quarter
Monday October 18
Board of Education Work Session
6:30 PM
CHS South Unit Commons
Monday October 25
Board of Education Work Session
7:00 PM
CHS South Unit Commons
Thursday October 28
No School - Parent Teacher Conferences for All Levels
Friday October 29
No School - Parent Teacher Conferences for All Levels
City BBQ Takeover to Support Weller PTO - Sept. 1
Join us at City BBQ on Wednesday, Sept. 1 between 10:30 a.m.-10 p.m.! Present this flyer to your server and City BBQ will donate 20% of the proceeds to the Weller PTO. Spread the word and enjoy some delicious food!
Rec'ing Crew Afterschool Program
[Grades K-5] Rec'ing Crew is our after-school program available to Centerville School students. The school bus will drop your child off at RecPlex West where they can experience the pool, rock wall, Countryside Park and still have time for homework! The program is super flexible for working parents. Register and pay online each month for days needed for care.
Mads Tolling Master Class and Concert - Sept. 11
[Grades 2-12] Internationally known violinist, Mads Tolling, will be providing a master class with Centerville Orchestra students on Sept. 11. Also well known as a composer and two-time Grammy Award-winner, Mads is a former member of the Turtle Island String Quartet. Students and parents are also invited to Mads' concert at 7:30 p.m. in the Performing Arts Center.
5th Quarter
[Grades 6-12] All 6th through 12th grade students (and parents) are welcome to hang out during and after Friday night home football games at Normandy United Methodist Church from 8:30 p.m. until midnight. Free food and drinks including Bill's Donuts. Come play games and/or watch a movie. Any questions, please call Normandy Church at 937-433-1636.
2021 Recruitment Invitation
[Grades 6-12] Summer is coming to an end, but it's not too late to have an adventure! Scout Troop 116 invites middle and high school students to join us for weekly meetings, service projects, 135 merit badge possibilities and, of course, outdoor events. Is fall full? No problem! We welcome new members anytime. Reach out today so we can plan your journey. Nothing shines on a job or college/tech-school application like Scouting. Plus, we offer you unique opportunities for travel, leadership and personal growth. Check out the flyer below and we look forward to hearing from you soon.
Recruitment for Scouts BSA Girls' Troop
[Grades 6-12] BSA troop 237 is an all-girl troop of 11-17 year old young people who love adventure, camping and the outdoors. Please join us for weekly meetings at Christ United Methodist Church, 3440 Shroyer Road, Kettering, on Tuesdays at 7:30 p.m. For more info please contact bsatroop237ohio@gmail.com.
Rotary Club Youth Leadership Conference
[Grades 10-12] Centerville Rotary Club will be sponsoring two students to attend the annual Rotary Youth Leadership Award (RYLA) conference, Oct. 22-24, 2021 at Camp Kern. We are looking for applicants who have exhibited achievement, leadership and self-motivation in multiple areas. All costs will be covered by Rotary.
Mom's Market Sale - Sept. 18
[All ages] The Mom's Market invites you to come shop this sale and find great deals on gently used baby, kid and teen items. Saturday, Sept. 18 from 9 a.m.-1 p.m. at Springboro Junior High School. A percentage of all sales goes to support Dayton Children's Hospital. Cash and all major credit cards accepted for purchase. $1 cash only at entry.
First Dawn Food Pantry Centerville
[All ages] For those in need of food, First Dawn Food Pantry is located in Restoration Church on Franklin Street here in Centerville. Open Thursdays 6-7:30 p.m. Bring photo ID and proof of address and you can shop in person. We have been blessed with an abundance of food so come visit us if you find yourself in need.
Kettering-Centerville Kiwanis 5k Run/Walk to Benefit Food2Go
[All ages] The Kiwanis 5K Run/Walk and Virtual 5k is Labor Day Weekend
2021. Your participation will directly benefit children in the Kettering and Centerville areas facing food insecurity issues. Proceeds will benefit the Kettering Backpack Program and Centerville Food2Go Program.
Centerville City Schools offers these links as a service to the community and is not responsible for the content of these organizations' websites, flyers or classes.
If you are interested in sharing your community event, please complete the Request for Distribution of Materials Form.