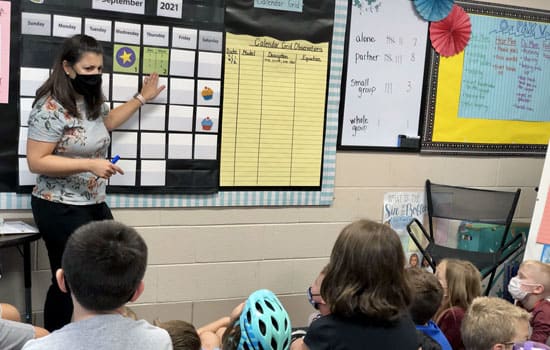 NUMBER CORNER AT NORMANDY
Mrs. Danis' third grade class at Normandy Elementary discusses their calendar grid observations during Number Corner. This activity is a part of the Bridges math curriculum, which was adopted prior to the 2020-21 school year. This curriculum better aligns with Ohio's Learning Standards and helps students develop deeper understandings of math concepts, increasing their ability to solve complex problems.

COVID-19 health and safety update
Thank you for working with us through the change in mask requirements that began last week. As you may have seen from last Friday's COVID dashboard update on the district website, our schools are experiencing an increase in positive cases, mirroring what is happening in the wider community. Please remember that our overall goal is to keep students in school in-person so we can keep learning moving forward. Layering health and safety protocols, such as wearing masks, distancing as much as possible, and practicing good hygiene, can help us minimize the impact of quarantines by keeping as many students coming to school as possible. With the transmission rate remaining high, our mask requirement remains in place at all grade levels. However, we are continuing to monitor the situation both in our schools and in the community in the hopes that we can make adjustments to these protocols in the future.
Please keep your child home if they have any COVID-19 symptoms or symptoms of any other illness, including congestion or runny nose, sore throat, headache, cough, fever or chills, shortness of breath/difficulty breathing, fatigue, muscle or body aches, loss of taste or smell, nausea or vomiting, and/or diarrhea.
If your child tests positive for COVID-19 or is a close contact outside of school, please remember to complete our online reporting form. COVID-19 data will continue to be updated on the district website each Friday. More information about health and safety protocols is available on our Back to School Basics page.
Reminder: Parents/guardians must update their children's Student Registration Forms each year! These updates are important so we have accurate information on file for your child.
Centerville City Schools have added security film to strategic locations throughout the district as part of ongoing safety and security enhancements.
Did you know that eligible families who didn't file 2019 or 2020 tax returns can still register online for advance Child Tax Credit payments?
Come "Jam the Gym" and cheer on the Lady Elks Volleyball team as they take on the Springboro Panthers on Tuesday, Sept. 14.
Destination Imagination will be holding student/team placement workshops and information sessions at several schools over the next two weeks.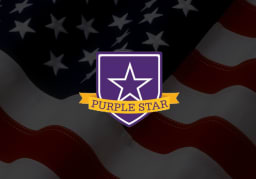 Driscoll and Weller elementary schools join seven other Centerville schools in being recognized for their commitment to students and families connected to our nation's military.
Friday September 17
No School - Professional In-service Day
Monday September 20
Board of Education Work Session
6:30 PM
CHS South Unit Commons
Monday September 27
Board of Education Meeting
7:00 PM
CHS South Unit Commons
Monday October 11
No School - Columbus Day
Friday October 15
End of 1st Quarter
Monday October 18
Board of Education Work Session
6:30 PM
CHS South Unit Commons
Monday October 25
Board of Education Work Session
7:00 PM
CHS South Unit Commons
Thursday October 28
No School - Parent Teacher Conferences for All Levels
Friday October 29
No School - Parent Teacher Conferences for All Levels
Monday November 15
Board of Education Work Session
6:30 PM
CHS South Unit Commons
School Events & Fundraisers
Back to School Bash with EPIC Entertainment & Kona Ice - Sept. 19
[Grades PreK-12] NextGen@FBK is having a Back to School Bash! Featuring EPIC Entertainment and Kona Ice. Date is Sunday, Sept. 19, 2021 from 6-8 p.m. (doors open at 5:30 p.m.) Location is FBK, 3939 Swigart Road, Dayton, OH 45440, Questions? Email stephanie@fbckettering.org
Rec'ing Crew Afterschool Program
[Grades K-5] Rec'ing Crew is our after-school program available to Centerville School students. The school bus will drop your child off at RecPlex West where they can experience the pool, rock wall, Countryside Park and still have time for homework! The program is super flexible for working parents. Register and pay online each month for days needed for care.
Cub Scout Event: Water Rockets - Sept. 15
[Grades K-5] If you couldn't make it to one of the Cub Scout recruitment events in August and you are interested in scouting, Cub Scout Pack 116 (PVS, Weller) and Pack 516 (PVN, Driscoll, John Hole, Normandy) will be having a joint event (water rockets) on Sept. 15 at 6:30 p.m. in the field behind Weller Elementary.
Mads Tolling Master Class and Concert - Sept. 11
[Grades 2-12] Internationally known violinist, Mads Tolling, will be providing a master class with Centerville Orchestra students on Sept. 11. Also well known as a composer and two-time Grammy Award-winner, Mads is a former member of the Turtle Island String Quartet. Students and parents are also invited to Mads' concert at 7:30 p.m. in the Performing Arts Center.
5th Quarter
[Grades 6-12] All 6th through 12th grade students (and parents) are welcome to hang out during and after Friday night home football games at Normandy United Methodist Church from 8:30 p.m. until midnight. Free food and drinks including Bill's Donuts. Come play games and/or watch a movie. Any questions, please call Normandy Church at 937-433-1636.
Recruitment for Scouts BSA Girls' Troop
[Grades 6-12] BSA troop 237 is an all-girl troop of 11-17 year old young people who love adventure, camping and the outdoors. Please join us for weekly meetings at Christ United Methodist Church 3440 Shroyer Road, Kettering, Ohio on Tuesdays at 7:30 p.m. For more info please contact bsatroop237ohio@gmail.com.
First Dawn Food Pantry Centerville
[All ages] For those in need of food, First Dawn Food Pantry is located in Restoration Church on Franklin Street here in Centerville. Open Thursdays 6-7:30 p.m. Bring photo ID and proof of address and you can shop in person. We have been blessed with an abundance of food so come visit us if you find yourself in need.
Mom's Market Sale Now Online - Sept. 17-19
[All ages] Due to new COVID restrictions, the Mom's Market will now be VIRTUAL. You can still buy/sell gently used kids items and help raise much needed funds for Dayton Children's Mental Health services. Shop/pay online Sept. 17-19, then pick up your purchase at Franklin Community Park on Saturday, Sept. 25 between 1-3 p.m. Bring receipt, ID and a mask.
Centerville City Schools offers these links as a service to the community and is not responsible for the content of these organizations' websites, flyers or classes.
If you are interested in sharing your community event, please complete the Request for Distribution of Materials Form.