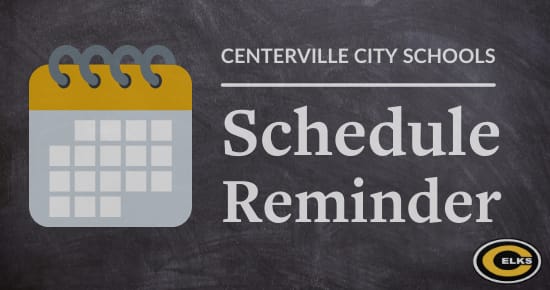 CONFERENCES TAKING PLACE THIS WEEK
Just a reminder that parent-teacher conferences are taking place this week, and there is no school for students at all grade levels this Thursday, Oct. 28 or Friday, Oct. 29. Schools will reopen on Monday, Nov. 1.
VIDEO: Watch full Oct. 25 board meeting or read highlights
Did you know we have 256 English learners enrolled in Centerville Schools this year, and their families speak at least 45 languages? English learners from our middle schools recently learned about famous Dayton inventors to help them design their own inventions!
Students from the Environmental Science career education program at CHS led Centerville Washington Park District employees on a tour through their garden project, which included viewing the three large garden beds and demonstrating their sustainable farming techniques.
Congratulations to Caroline Hinshaw and Clara Owen, who defeated Rocky River Magnificat in the finals, 6-3 and 6-0!
While kids are collecting candy on Halloween, CHS performing arts students will be collecting food donations for their annual food drive, "Trick-or-Treat So Kids Can Eat."
Don't forget to register for AP exams! Students wanting to take AP tests at Centerville High School in the spring of 2022 will need to register for each exam before the deadline on Sunday, Oct. 31, 2021.
Normandy Elementary celebrated "Start with Hello Week" Oct. 18-22! This initiative, led by Sandy Hook Promise, encourages students to include others and find ways to make connections with their peers.
Mark Wiseman from Levin Porter Architects shared a summary of the district-wide building assessment and master facility plan during the Centerville Board of Education's work session on Oct. 18.
Thursday October 28
No School - Parent Teacher Conferences for All Levels
Friday October 29
No School - Parent Teacher Conferences for All Levels
Monday November 15
Board of Education Work Session
6:30 PM
CHS South Unit Commons
Monday November 22
Board of Education Meeting
7:00 PM
CHS South Unit Commons
Wednesday November 24
No School - Thanksgiving Break
Thursday November 25
No School - Thanksgiving Break
Friday November 26
No School - Thanksgiving Break
Monday November 29
Centerville Community Blood Drive
3:30 PM - 7:30 PM
CHS East Unit Commons
Monday December 13
Board of Education Meeting
7:00 PM
CHS South Unit Commons
Friday December 17
End of 2nd Quarter
CUSA Soccer Supplemental Tryouts
[Grades PreK-12] CUSA Soccer is holding its supplemental tryouts over the next three weeks. If you are unhappy with your club or are not currently playing, come and tryout with us. Please visit our website, www.cusasoccer.org, for more information.
Upward Basketball League
[Grades K-6] Registration is open for the 2021 Upward Basketball League at WHBC. This league is for boys and girls, K-6th grade. Register BEFORE the Nov. 29 deadline! Upward Basketball is a non-competitive, recreational league committed to developing the TOTAL athlete mentally, athletically, spiritually and socially.
Centerville City Schools offers these links as a service to the community and is not responsible for the content of these organizations' websites, flyers or classes.
If you are interested in sharing your community event, please complete the Request for Distribution of Materials Form.