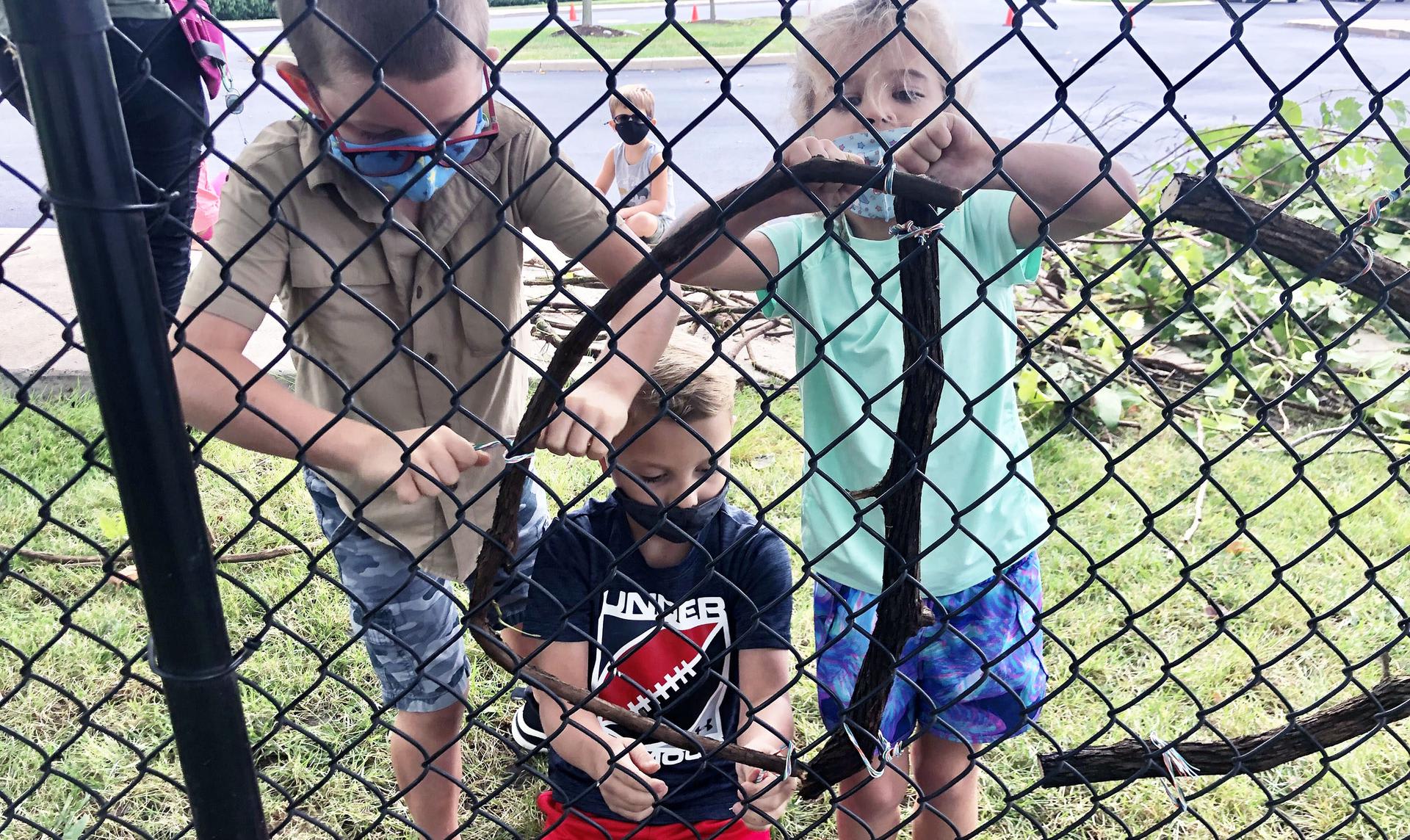 PVN STUDENTS USE NATURAL OBJECTS TO CREATE ALPHABET
Kindergartners from the Raspberry Neighborhood at Primary Village North have been discovering letters and numbers in nature! After discussing the shapes of the letters and their order in the alphabet, the students worked together -- with the help of teachers, natured-based educator Meredith Florkey, and parent volunteers -- to build the alphabet using grapevine along the front playground fence.
COVID-19 health and safety reminders
Please keep your child home if they have any COVID-19 symptoms or symptoms of any other illness, including congestion or runny nose, sore throat, headache, cough, fever or chills, shortness of breath/difficulty breathing, fatigue, muscle or body aches, loss of taste or smell, nausea or vomiting, and/or diarrhea.
If your child tests positive for COVID-19 or is a close contact outside of school, please remember to complete our online reporting form. COVID-19 data will continue to be updated on the district website each Friday. More information about health and safety protocols is available on our Back to School Basics page.
The Homecoming Court will be introduced and the king and queen will be announced at 6:30 p.m. prior to the CHS varsity football game this Friday, Sept. 24.
CHS Library would appreciate donations to support this year's Makerspace Monday events. A list is included in the full story.
School safety is important to all of us in Centerville Schools, and we know it's a priority for our community as well.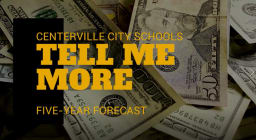 Throughout the year, the district will be sharing quick videos with basic information about school funding.
Monday September 27
Board of Education Meeting
7:00 PM
CHS South Unit Commons
Monday October 11
No School - Columbus Day
Friday October 15
End of 1st Quarter
Monday October 18
Board of Education Work Session
6:30 PM
CHS South Unit Commons
Monday October 25
Board of Education Work Session
7:00 PM
CHS South Unit Commons
Thursday October 28
No School - Parent Teacher Conferences for All Levels
Friday October 29
No School - Parent Teacher Conferences for All Levels
Monday November 15
Board of Education Work Session
6:30 PM
CHS South Unit Commons
Monday November 22
Board of Education Meeting
7:00 PM
CHS South Unit Commons
Wednesday November 24
No School - Thanksgiving Break
School Events & Fundraisers
Youth Lacrosse Try It Event - Sept. 29 & Oct. 3
[Grades K-6] Please join us for our Fall Try Lacrosse Events for boys and girls in grades K-6! No equipment is necessary for these events. Events will be held at Robert F. Mays Park on Sept. 29 (6-7 p.m.) and Oct. 3 (3-4 p.m.). Questions? cvlaxk6@gmail.com or www.cvlax.org
CUSA Soccer Bring a Friend to Practice - Week of Sept. 20
[Grades K-8] CUSA is hosting a Bring a Friend to Practice the week of Sept. 20. Training is held at Forest Field and is totally free for any friends joining you. If interested, please email cara.hughes@cusasoccer.org for ages U6-U10 or nick.kinder@cusasoccer.org for ages U10 and up.
Equestrian Club Open House - Oct. 1
[Grades 5-12] If you love horses and want to learn more about them while meeting others who share the same interest, then this club is for you! Open to students who attend Centerville Schools in grades 5-12. Email emily.schluter@centerville.k12.oh.us for more information. Our kick-off event is an Open House on Oct. 1 at ReBound Equestrian Center from 5:30-7 p.m. The farm is located at 1679 Sutts Trail, Xenia (just outside of Bellbrook). There will be food, free horseback rides and a raffle with prizes. Plus, you'll have the chance to join the club and sign up for riding lessons. Please RSVP for the Open House by Sept. 28 to janie.murphy@centerville.k12.oh.us so we'll know how many to plan for.
Centerville City Schools offers these links as a service to the community and is not responsible for the content of these organizations' websites, flyers or classes.
If you are interested in sharing your community event, please complete the Request for Distribution of Materials Form.