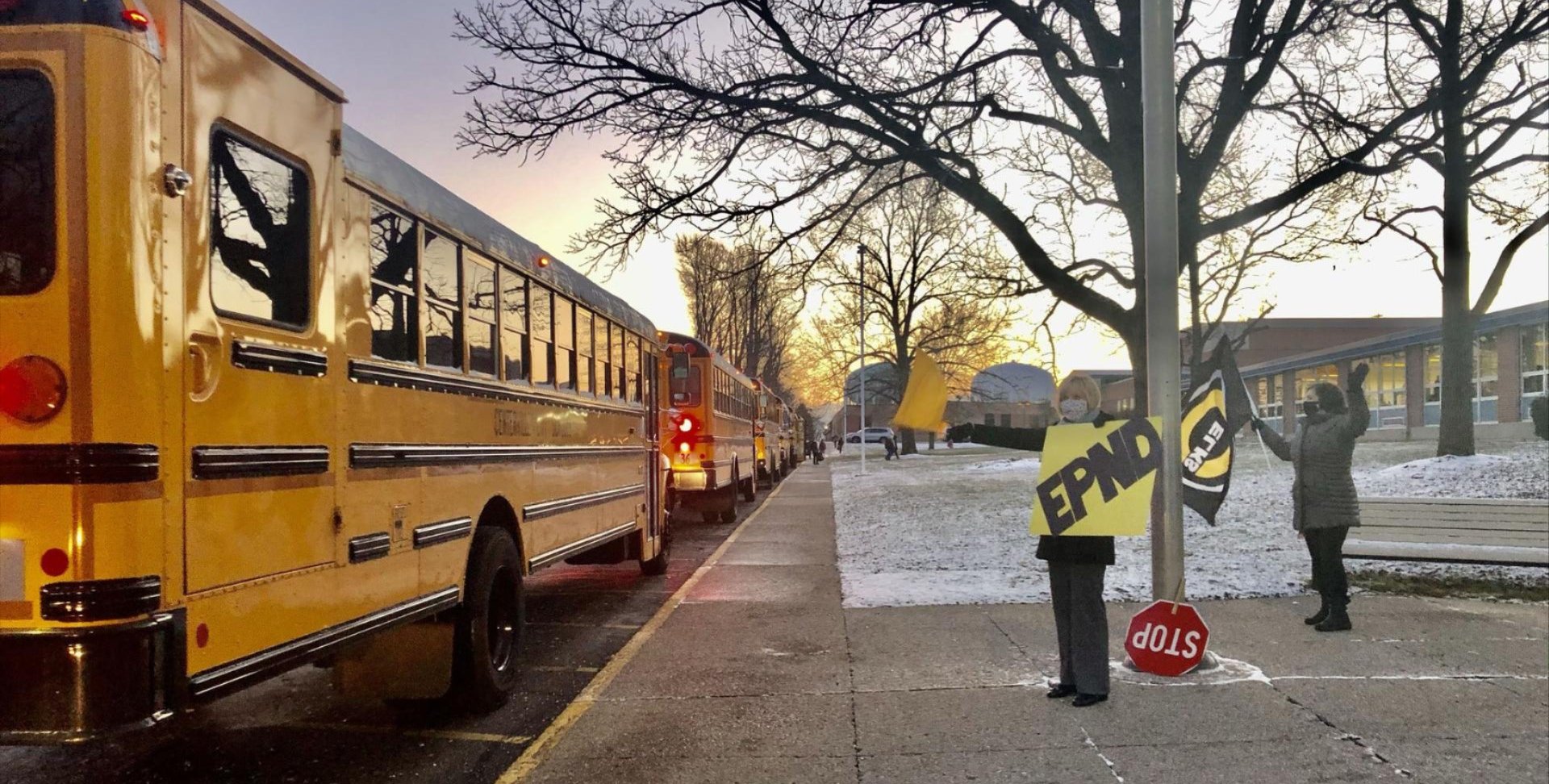 Second semester is underway!

We were excited to welcome our in-person learners back to school buildings yesterday! We hope all of our students -- whether they're learning in-person or remotely -- have a great start to the semester!
Back Up ... Mask Up ... Wash Up
It is wonderful to seeing so many of students back in our school buildings! Please continue to remind your children to BACK UP, MASK UP and WASH UP throughout the school day.

Meal pick-up reminder for families of remote learners
Students who are continuing with the remote learning option for the second semester are eligible to pick up school meals beginning TODAY (Wednesday, Jan. 20). If your child is participating in the fully remote learning option and you registered for meal pick-up, please pick up your child's meals between 11 a.m.-12:30 p.m. each Wednesday at the school building you chose in the survey. Anyone may pick up the meals as long as they have the student's name and ID number. Please note that meal pick-up will follow the school calendar, and meals will only be provided for days when school is in session. If you have any questions or decide later that you need to change your choice, please contact the Student Nutrition Services Department at olivia.stone@centerville.k12.oh.us.
CHS Career Tech Education Expo
Families of CHS sophomores: As part of Centerville High School's academic programming, Career Technical Education programs are available to our juniors and seniors. In years past, CHS has held a Career Tech Education Expo in the gym for all sophomores to attend (pictured above), but this year, the expo will be online. Beginning Jan. 27, sophomores will be able to learn more about the 12 Career Technical Education block programs at CHS and seven programs at Fairmont High School. Parents/guardians will receive additional information via email and are encouraged to learn more about the programs with their children.

CHS teacher named Ohio ProStart Teacher of Distinction
Mark Mitrovich, who teaches Culinary Arts and Restaurant Management at Centerville High School, has been recognized by Ohio ProStart as a 2019-20 Teacher of Distinction. Culinary Arts is part of the Career Education Program, which is a collaborative effort between Centerville, Kettering and Oakwood High Schools that offers 19 distinct programs for juniors and seniors.

Board of Education Meeting
Monday, Jan. 25 - 7 p.m.
CHS South Unit Commons
NO SCHOOL - Presidents Day
Friday, Feb. 12-Monday, Feb. 15
Community Blood Drive
Monday, Feb. 15 - 3:30-7:30 p.m.
CHS East Unit Commons
Schedule appointment
Board of Education Work Session
Tuesday, Feb. 16 - 6:30 p.m.
CHS South Unit Commons
Board of Education Meeting
Monday, Feb. 22 - 7 p.m.
CHS South Unit Commons
PreK-12 Parent-Teacher Conferences
Wednesday, Feb. 24-Thursday, Feb. 25
NO SCHOOL - Parent-Teacher Conferences
Thursday, Feb. 25-Friday, Feb. 26
End of 3rd Quarter
Friday, March 19
CHS Spirit Chain City BBQ Takeover - Jan. 20
A group of Centerville High School seniors has decided to continue the tradition of CHS Spirit Chain this year by collecting money for Open Arms Clinic, Miami County Dental Clinic and Food 2 Go. Throughout the next couple of weeks, there will be multiple fundraisers and ways to donate. TODAY (Wednesday, Jan. 20), there will be a City BBQ takeover (for contributions to Spirit Chain, use FUNDRAISER A). Additionally, look for donation tip jars at local restaurants and sporting events. Go Elks and let's make a difference!
Magsig PTO Takeover at Raising Cane's - Jan. 28
Support Magsig Middle School by eating at Raising Cane's (1136 Miamisburg-Centerville Rd.) between 3-9 p.m. on Thursday, Jan. 28. Mention the fundraiser in the drive-thru and Cane's will donate a portion of the proceeds to Magsig PTO.
Archer's Tavern Takeover to Support Weller PTO - Feb. 2
Join us at Archer's Tavern on Thursday, Feb. 2 between 8 a.m. and 10 p.m.! Present this flyer to your server, and Archer's will donate 10% of your total bill to the Weller PTO. Spread the word and enjoy some delicious food!
Centerville Rec Baseball and Softball Sign-ups Now Open

[Grades PreK-12] Centerville Rec Baseball and Softball sign-ups are taking place. Please visit www.cbltoday.org and sign up for the upcoming season. Registration is now open and will stay open until March 27, 2021. See attached flyer for all information for kids ages 4-18.

Girls Youth Lacrosse
[Grades K-6] GIRLS Lacrosse registration is still ongoing! If you are thinking about joining, please join us for a Free Try Lacrosse event for all girls K-6th grade on Friday, Jan. 29 and Friday, Feb. 5 from 6-7 p.m. at GAC Fitness in Springboro. Please see the attached flyer for more information.
Centerville Middle School Track
[Grades 7-8] Attention all 7th and 8th grade middle school students who are interested in running track this year: We are asking you to fill in the interest sheet so that we can begin to send out information when it becomes available. The season starts on Monday, March 2, and you will need to have all paper work filled out and turned-in prior to the start of the season. Any questions, please contact Brent Ullery in the CHS Athletic Department at brent.ullery@centerville.k12.oh.us.
Centerville City Schools offers these links as a service to the community
and is not responsible for the content of these organizations' websites, flyers or classes.
If you are interested in sharing your community event,
please complete the Request for Distribution of Materials Form.