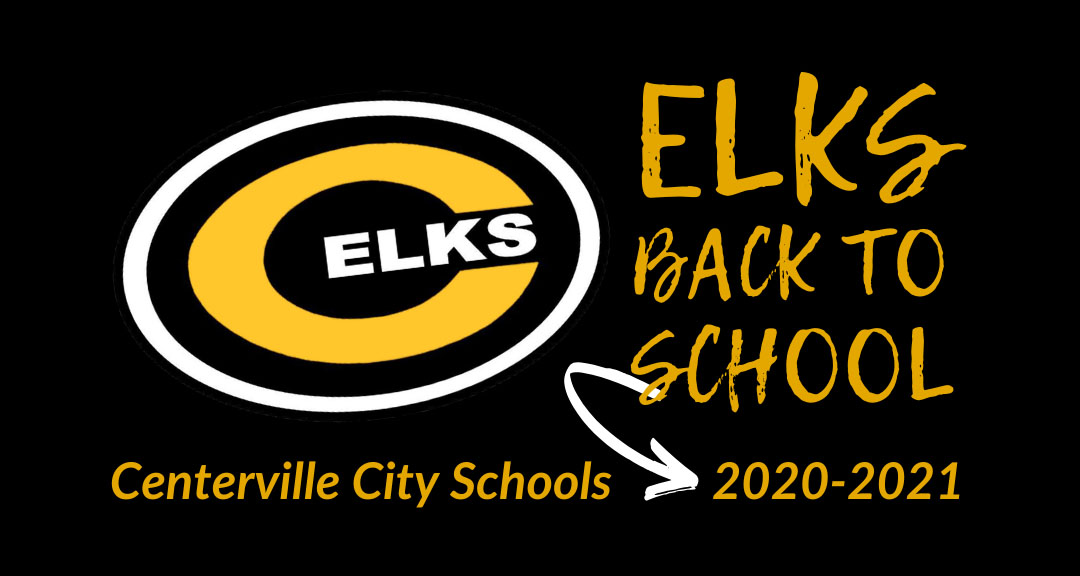 Elks Back to School Update - Aug. 6, 2020
As we plan for the upcoming school year during the COVID-19 pandemic, the health and safety of our students and staff members remains a priority. We have stated throughout the summer that our decisions about reopening school buildings would be based on evolving pandemic conditions and guidance from the state or public health authorities. Due to the sustained spread of the virus within our county, we are adjusting our back to school plans.


We are announcing today that Centerville Schools will operate in a remote learning environment through at least the first quarter of school.


This decision was based on the latest guidance from Public Health - Dayton & Montgomery County, which recommended that Montgomery County schools begin the school year in a remote learning environment, and a discussion with the Centerville Board of Education during a special meeting this week. We have also heard from many parents, staff and community members and have taken that feedback into consideration. We know we are still a little over two weeks out from the start of school but are announcing this now so we can readjust staffing and give families time to make arrangements.


Here is some additional information as we move to remote learning:
All students in grades PreK-12 will participate in remote learning for at least the first quarter of school. For preschool, this would include only students with disabilities at this time.

The first day of remote learning for K-12 students will be Monday, Aug. 24. The first day for preschool students will be Wednesday, Aug. 26.

The first quarter ends on Friday, Oct. 16 and includes 37 instructional days.

All students will be placed in classes with Centerville teachers. We will no longer use the SchoolsPLP curriculum for online learning.

Remote learning will be more structured than the emergency learning in the spring, and students at all grade levels will follow a daily schedule. We are working with our Curriculum Directors to outline what remote learning will look like this fall and will get that information out as soon as possible.

Daily attendance will be monitored.

Our Curriculum Department has been hosting sessions with teachers from all grade levels to discuss expectations for remote learning. In addition, our Student Services Department has been hosting sessions with intervention specialists and related services staff to discuss how we can continue to serve our students with special needs.

Individual schools and teachers will let families know if specific school supplies are needed. Students should have basic supplies on hand, such as pencils, paper, notebooks, etc.

We have decided to postpone assigning a Chromebook to every student until we return to in-person instruction. However, we will provide a Chromebook to any family that needs additional devices to support each student during remote learning.

With students following a daily schedule during remote learning, it would be helpful for each student to have their own device. If you have a personal Chromebook, computer or other tablet at home, please utilize that device during remote instruction. If your family doesn't have enough devices to support each student during remote learning, we will provide a Chromebook.

For those who request Chromebooks, we will align the distribution of those devices with student materials pick-up at your child's school.

If your family does not have Internet access, you can request a district-owned hotspot for remote instruction. Families must meet basic eligibility this fall.

Please request an eligibility form using the link below and return your completed form to your child's school.

We will share information about picking up textbooks, other school materials, etc. as those details are finalized.

A decision about athletics and extracurricular activities has not yet been made.

We will continue to update the frequently asked questions on our website: www.centerville.k12.oh.us/back-to-school-2020/faq

We believe following the recommendations of health experts will help us protect our students, staff members, families and the broader community. As always, we appreciate your flexibility and patience as we make these difficult decisions.
More News from Centerville Schools

Summer learning for students in grades K-5

Looking for ways to engage your child in learning over the summer? The summer months are an opportunity for your child to explore, learn and enjoy being a kid, but families often ask how they can help their child maintain or reinforce skills learned during the school year. To support families with summer learning ideas, our curriculum team has created weekly choice boards and a website with possibilities to support your child. Each week we will post a new menu of options for each grade, kindergarten through fifth grade.
Virtual Book Club for Teens
[Grades 6-12] Washington-Centerville Public Library will host Bookmarked: A Book Club for Teens virtually on Thursday, Aug. 13 at 7:15 p.m. The program is open to those entering grades 6-12. Attendees are invited to discuss any book they have recently read.
Greater Dayton Chinese School Offers Online Classes Fall 2020
[All ages] The Greater Dayton Chinese School (GDCS) is a non-for-profit organization offering Chinese classes as well as a variety of enrichment classes including Martial Arts, Color Pencil Drawing, Computer Coding, Chinese Folk Dance, Chess and Public Speaking. Zoom classes are held on Sundays from 1:30-4:15 p.m. starting Aug. 23, 2020. Register now.
Back to School Open House at AR Workshop
[All ages] Stop by the workshop Aug. 14 from 3-7 and stock up on back to school supplies, decor, to-go art kits and school spirit gear! Donations for school supplies accepted for Hannah's Treasure Chest and Crayons to Classrooms. Kona Ice!

CUSA Little Legends Fall 2020
[Age 5 and under] This series of programs, available year-round, is designed for children ages 5 and younger. All of our programs focus on individual skills in a group setting while also working on character development and working together as a team.
CUSA Soccer Summer Select Camp - Aug. 8-9

[Grades 2-12] CUSA will be offering an opportunity for competitive players to stay sharp over the summer months so they can hit the ground running in the pre and regular season. The camp, which is open to all competitive and select players from any club, will consist of only high-level soccer activities.
More information
Centerville City Schools offers these links as a service to the community
and is not responsible for the content of these organizations' websites, flyers or classes.
If you are interested in sharing your community event,
please complete the Request for Distribution of Materials Form.