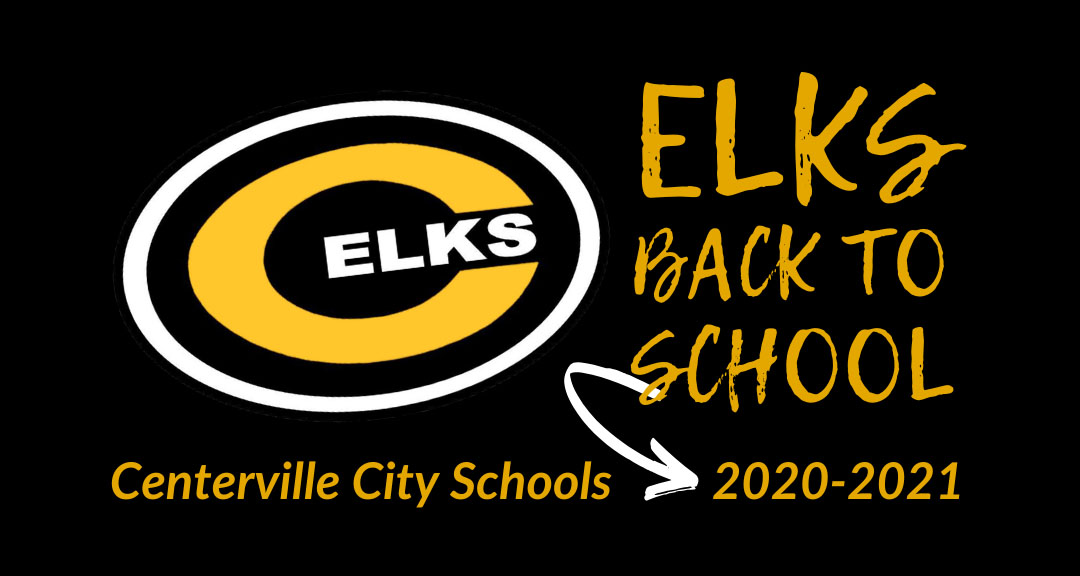 Elks Back to School Update - July 22, 2020
We appreciate your patience as we have worked hard to provide more details and answer questions over the past week. Today's update includes more information about the two learning options, transportation reminders and a link to our frequently asked questions, which we continue to update.

Just a reminder that we are asking ALL families to let us know which learning option they are choosing for each of their children by 11:59 p.m. on Friday, July 24.

This will give us time to make adjustments to transportation, staffing for in-person and online learning, the allocation of resources, and more. Information about each option was shared in last week's Elks Back to School Update (view it here), and additional updates are included below.

To select a learning option, parents/guardians must visit https://student.centerville.k12.oh.us/return/ and log in using your Home Access Center credentials. You will then be able to select the in-person or 100% online option for each of your children.

If you have not completed the registration process on the Home Access Center (HAC), you will need to do that first. Click here to start the registration process. Please use the parent/guardian information that was used at enrollment when completing the HAC registration process.
More Information about Option 1: In-Person (Blended Learning)
As a reminder, we are planning to start the school year in a blended learning model. There has been some confusion about the blended learning models and how many days each week students would be learning. Everyday is a learning day, and students will be participating in educational activities either in their school building or from home. On days when they are not in the school building, students will check in with their teachers virtually and through Google Classroom. We are developing the expectations for students at each grade level.

Thanks to everyone who provided their input on the blended learning schedules. After gathering data from both staff members and families, the model below was chosen to help provide as much consistency as possible for families. This schedule includes two days of face-to-face instruction and three days of remote learning for students each week.

Students in Group 1 (last names A-K) will attend school in-person on Mondays and Thursdays and participate in remote learning activities on Tuesdays, Wednesdays and Fridays.

Students in Group 2 (last names L-Z) will attend school in-person on Tuesdays and Fridays and participate in remote learning activities on Mondays, Wednesdays and Thursdays.

We are working to ensure siblings and members of the same household are assigned to the same group.
More Information about Option 2: Online Learning
The Montgomery County Educational Service Center and SchoolsPLP have shared some informational slides and videos. These resources provide an overview of the program but may not show all of the learning opportunities students may use for the online curriculum. Lessons are set up with a video to start the concept or lesson, passages to read, questions to answer, a game to play or task to complete. The lessons include sections like teach it, watch it, read it, show it and/or assess it. Students who choose the online learning option will learn in an online environment with virtual teacher support. Once we know the number of students who choose this option, we will be able to determine how we will staff it. If your child receives special education services, those services will be provided by Centerville City Schools.

For CHS families, we have received a number of questions inquiring whether students who are enrolled in a specific CHS program that is not offered by SchoolsPLP can participate in that class in person at CHS. We have discussed this and have determined that CHS students who are enrolled in a career tech education course, an AP course, a level 4 or 5 world language course, or performing arts classes that are not offered by SchoolsPLP will be offered the opportunity to attend those classes in person at Centerville High School along with their peers in in-person (option 1) model. Please select the online learning option (option 2) and then the district will reach out to you by early August to schedule the courses you wish to take in person. Students will need to provide their own transportation to and from CHS.
Transportation Information for the Upcoming School Year
For those choosing the in-person option (option 1), routine bus transportation to and from school will be available. Students will be required to wear a cloth face covering when they are on a school bus. There may be up to two students per seat, and siblings will sit together whenever possible. Here is some additional information from our Transportation Department as families prepare for the upcoming school year:
Transportation forms are due as soon as possible! When completing any transportation form, please include information for all five days of the week, and our Transportation Department will make adjustments based on which group your child is assigned to.

To help with contact tracing during the 2020-21 school year, all students may only have one bus stop location in the morning and one bus stop location in the afternoon, five days a week. All students will have an assigned seat while on the school bus. Temporary transportation change forms will not be honored at this time.

Grades PreK-1: All students must have a Transportation Form on file with their school, whether they are riding a school bus or using alternate transportation.
Grades 2-8: All students will automatically be routed to and from their home address. If your child is opting out of bus services or will be served by a childcare provider at an address other than your home, you must complete a Transportation Form and return it to your child's school. You do not need to complete this form if your child rides the bus to and from your home address.
Grades 9-12: Students must complete the Opt to Ride survey to receive school bus transportation. If you do not complete this form, your child will not receive bus services. (Note: If you do not opt in for your student now, you may do so at a later time. Please be aware the Transportation Department may need additional time to route your student.)
Bus route information will be available on the Home Access Center (HAC) after 9 a.m. on Wednesday, Aug. 12.

Please note that transportation changes will not be guaranteed between Aug. 12-Sept. 2, and there will be no changes made on Aug. 21-24.
Frequently Asked Questions
More News from Centerville Schools

Summer learning for students in grades K-5

Looking for ways to engage your child in learning over the summer? The summer months are an opportunity for your child to explore, learn and enjoy being a kid, but families often ask how they can help their child maintain or reinforce skills learned during the school year. To support families with summer learning ideas, our curriculum team has created weekly choice boards and a website with possibilities to support your child. Each week we will post a new menu of options for each grade, kindergarten through fifth grade.