CHS Theatre celebrates 60 seasons
This weekend's production of the musical Fiddler on the Roof at Centerville High School is continuing a legacy that began 60 years ago! Each year, CHS Theatre produces four mainstage productions, as well as a student-produced show and a showcase performance by the honors/advanced acting and directing class. More than 100 students participate in after-school rehearsals, set building, costuming, props, lighting, sound and leadership roles. Be sure to check out the final performances of Fiddler on the Roof at 7:30 p.m. on May 3-4. The May 4 performance will include sign language interpretations.

Warrior Elk Duals support Relay for Life
Centerville High School Track & Field will host the "Warrior Elk Duals" tonight (May 1), with a theme of "Race for a Cure" and all money being donated to the South Dayton Relay for Life. The CHS and Wayne track coaches started the Duals 12 years ago, and both teams have been collecting items or raising money for various organizations ever since. The event will include a gift basket raffle, a community 1-mile run at 5:30 p.m. for anyone who wants to participate, and a 1-lap "Survivors' Walk" at 7 p.m. for all who have survived cancer.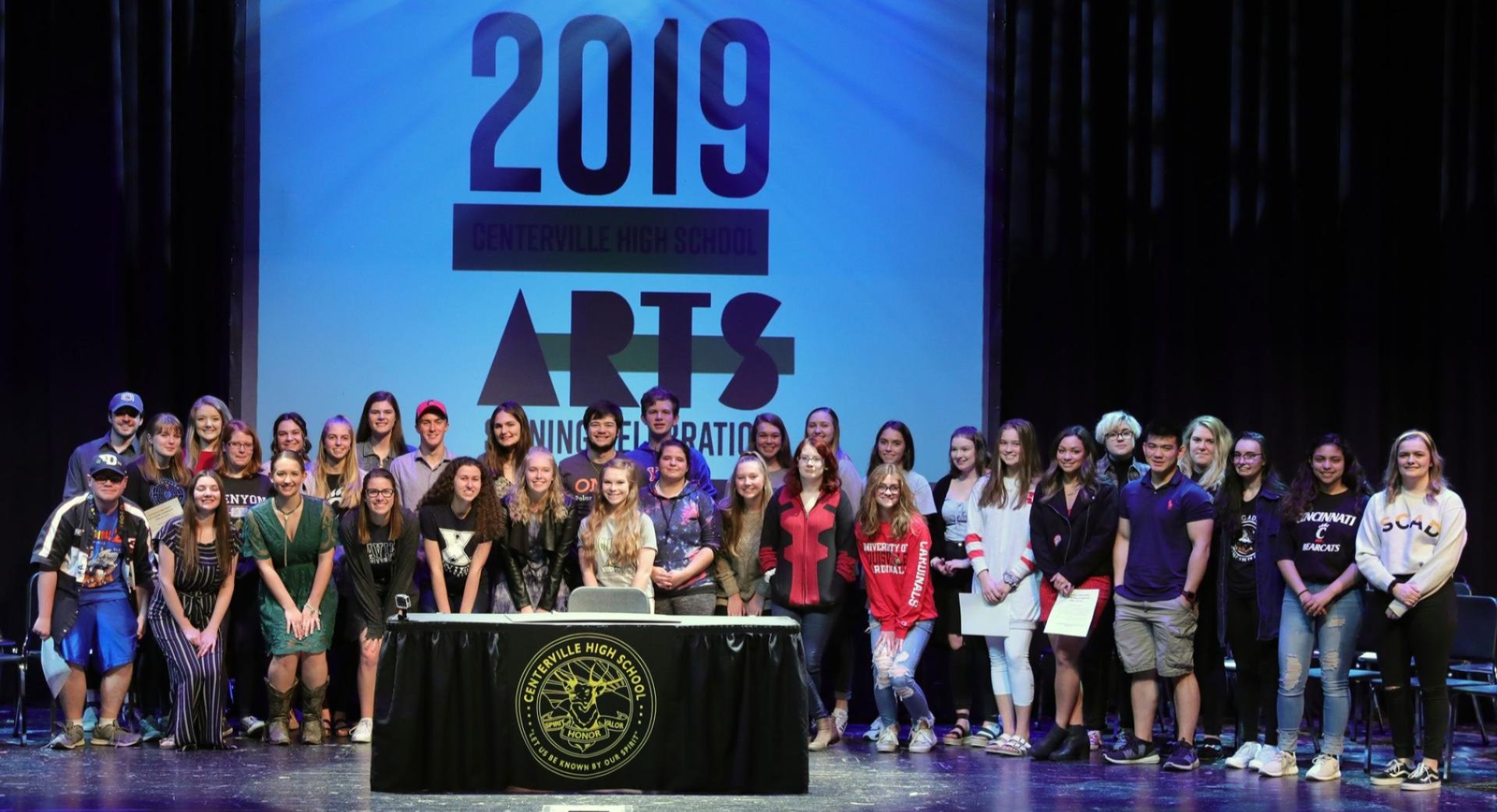 Thirty-four students participated in the first-ever Arts Signing Celebration at Centerville High School last night! The event recognized graduating seniors who plan to pursue a creative, art-based area of study, such as visual arts, consumer science, media arts, industrial arts, culinary arts, graphic arts, band, choir, dance, orchestra or theatre. This celebration coincided with National Arts Signing Days occurring at other schools around the country. More photos and information will be posted to the district website later today.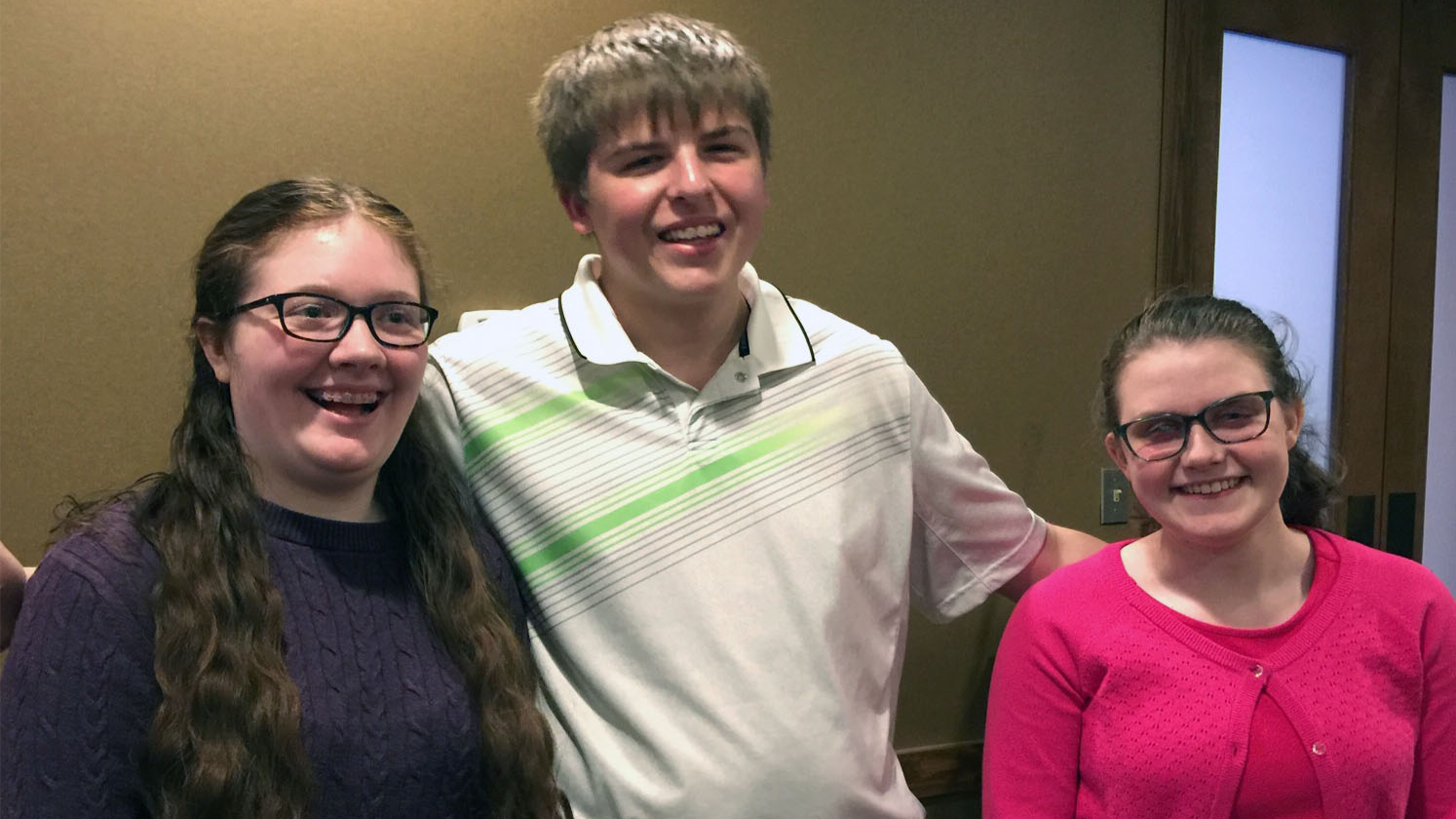 Youth Appreciation Awards
The South Metro Optimist Club awarded three of our middle school students with the Youth Appreciation Award. Each student is selected by teachers from their respective schools, and a nomination letter is sent to the Optimists. During a special dinner, the teacher reads the nomination letter, sharing the outstanding qualities of these middle schoolers as they navigate life, school, pressures, other kids, their achievements and goals. Congratulations to this year's recipients: Prudence Schackmann, an eighth grader from Magsig, Tyler Gross, an eighth grader from Watts, and Anna Petre, an eighth grader from Tower Heights!
Get to know ... Mary Huelsman
Throughout the year, we'll be introducing some of the great teachers, administrators, staff members, students and volunteers in our district. Today, let's get to know … Mary Huelsman, Literacy Specialist at Stingley Elementary, who was just recognized with an Excellence in Education award by the Centerville Education Foundation!
Speech & Debate informational meeting
Middle and high school families: Do you want to learn more about the Speech & Debate team? An informational meeting will be held tonight (May 1) at 6 p.m. in the CHS East Unit Commons. Students currently in grades 6-7 can learn about the middle school program, and those in grades 8-11 can learn about joining the high school team in the fall. Coaches and students will be available to answer questions.

Jeopardy Night for grades 3-5
Due to the popularity of the first Jeopardy Night, we are offering a second event! Third, fourth and fifth grade students in Centerville Schools are invited to challenge their thinking during Jeopardy Night from 6:30-8:30 p.m. on Wednesday, May 22 in the John Hole gym. This event is sponsored by Centerville Elementary Gifted Services. For more information, please contact Kathy Spyrou at (937) 433-8841, Ext. 2056. (Note: Those who participated in the March 2019 event should not register in order to give others a chance to participate. You may come and watch, however! We will close registrations at 40 students. The first 35 will play with a waiting list of five, if needed. Registrations will be date/time stamped, and parents will be notified through email after May 15.)
Community Blood Drive
Wednesday, May 1 - 3:30-6:30 p.m.
Watts Middle School
Click here to schedule a time to donate
Board of Education Work Session
Monday, May 20 - 6:30 p.m.
School of Possibilities
Sonny Unger Foundation 53rd Annual Awards Banquet
Wednesday, May 22 - 5 p.m.
Yankee Trace Golf Club
Jeopardy Night for Grades 3-5
Wednesday, May 22 - 6:30-8:30 p.m.
John Hole Elementary
Advance registration required
CHS Graduation
Saturday, May 25 - 9 a.m.
WSU Nutter Center
NO SCHOOL - Memorial Day
Monday, May 27
Board of Education Meeting
Tuesday, May 28 - 7 p.m.
CHS South Unit Commons
End of Fourth Quarter & Last Day of School
Thursday, May 30
Board of Education Work Session
Monday, June 17 - 6:30 p.m.
School of Possibilities
Board of Education Meeting
Tuesday, June 24 - 7 p.m.
CHS South Unit Commons
Board of Education Work Session
Monday, July 15 - 6:30 p.m.
School of Possibilities
Class of 1979 40th Reunion - Aug. 3
Celebrate past friendships as well as making new friends! Early bird registration ends at 11:30 p.m. on May 1, then the price will be going up.
Dayton Women's Basketball Camps
[Grades K-12] We will help you to become a smarter and more talented basketball player while also giving you the chance to make many new friends and have a lot of fun! Visit website or see flyer for details.

Centerville City Schools offers these links as a service to the community
and is not responsible for the content of these organizations' websites, flyers or classes.
If you are interested in sharing your community event,
please complete the Request for Distribution of Materials Form.